Hello, beautiful readers! If you're here, it means you're searching for ways to maintain or enhance intimacy in your long-distance relationship. Maybe you're just curious, or perhaps you've heard about app-enabled sex toys and want to know more. Either way, you're in the right place!
In our increasingly digital world, technology has found ways to bridge distances in ways we never thought possible, including the realm of intimacy. Yes, my loves, I'm talking about app-enabled sex toys - a game-changer for couples in long-distance relationships.
This guide will walk you through everything you need to know about these innovative devices. We'll delve into how they work, why they're fantastic for long-distance couples, what to consider when buying, some top-notch options available, and tips for using them to ignite the spark, no matter how many miles separate you.
So grab your favorite drink, get comfy, and let's dive right in, shall we? 💖
What are App-Enabled Sex Toys?
Sweeties, imagine a world where you could control your partner's pleasure from halfway around the globe. A world where distance doesn't mean the end of intimacy. Sounds like a fantasy, right? Welcome to the reality of app-enabled sex toys!
So, what exactly are these magical devices? App-enabled sex toys, also known as teledildonics or cyberdildonics, are intimate gadgets that can be controlled via a smartphone app. That's right, lovelies. You can use your phone not just for those sweet nothings and late-night conversations, but also to keep the flame of physical intimacy burning.
These toys come in a myriad of shapes, sizes, and types, tailored for all bodies and preferences. You can find vibrators, massagers, sleeves, and so much more. And the best part? They can be controlled over the Internet, no matter how far apart you are. You can create unique vibration patterns, sync with music or even your voice, and enjoy interactive sessions - it's like being in the same room, even when you're not.
The future of intimacy is here, and it's more exciting than you ever imagined!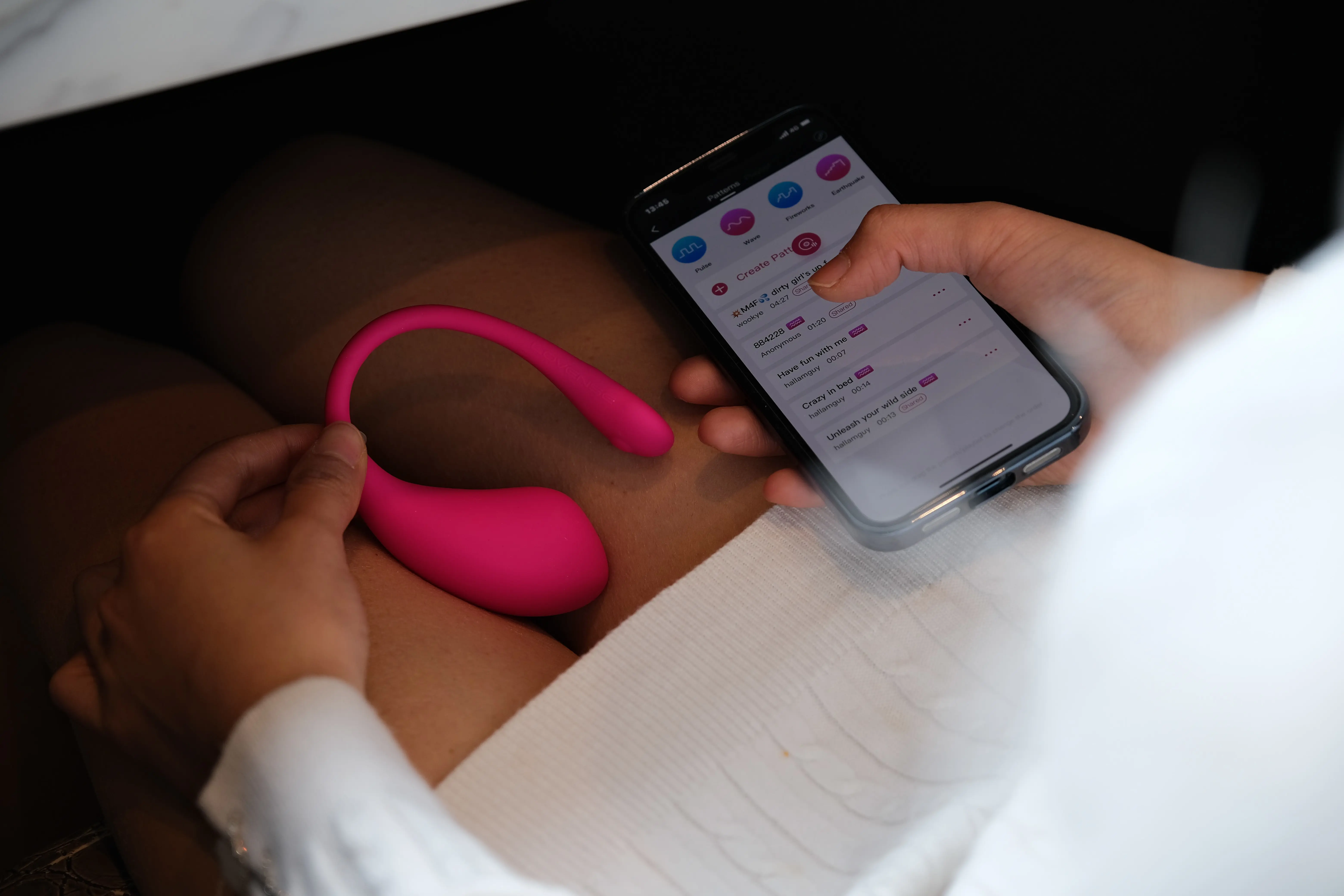 Why Use App-Enabled Sex Toys for Long-Distance Relationships?
So, now that we've tackled the 'what,' let's get into the 'why.' As someone who believes in the power of maintaining an intimate bond regardless of distance, I am here to tell you that app-enabled sex toys could be the spice your long-distance relationship has been craving.
Why, you ask? Let's explore, my dear readers!
Maintaining Physical Intimacy: With distance between you, it's easy to miss the physical aspect of your relationship. These gadgets keep that alive. They are the next best thing to being physically close to your partner.

Enhanced Communication: These toys require you and your partner to communicate openly about your desires, likes, and dislikes. And we all know how important communication is in relationships, right?

Fun and Excitement: Let's face it, long-distance relationships can sometimes feel monotonous. App-enabled sex toys can add an exciting element, bringing some adventurous fun into your relationship.

Mutual Satisfaction: These toys allow both partners to participate and find pleasure, helping you maintain a balanced and satisfying intimate life.

Bonding: When you can't be together, shared experiences are even more precious. Using these toys together creates a shared experience that can strengthen your bond.
There you have it, lovelies! Embracing technology in your relationship isn't just about sending sweet texts or video calling. It can also mean taking your intimacy to another level. And remember, it's all about maintaining that connection and keeping the spark alive!
Factors to Consider when Buying App-Enabled Sex Toys
Now that we've uncovered the 'what' and 'why,' let's move on to the 'how.' Yes, darlings, it's time to consider what to look for when shopping for your very own app-enabled sex toy. As exciting as it is, it's not just about picking the first cute gadget you see. Here's a checklist of things you should keep in mind:
Compatibility: Ensure that the toy is compatible with your device. Whether you're an iOS lover or an Android enthusiast, make sure your new intimate friend plays nicely with your tech.

Functionality: What are you looking for in a toy? Vibrations, rotations, pulsations? Do you want it to sync with music or respond to your voice? Figure out your preferences and pick a toy that matches them.

Comfort & Material: Comfort is paramount, my lovelies. Look for toys made from body-safe materials like silicone, and designs that you'll feel comfortable using.

Privacy: Privacy is a must in such intimate matters. Make sure your chosen toy and its app respect your data privacy and have secure connections.

Cost: While indulging in your desires, it's also essential to keep your budget in mind. App-enabled sex toys come in a variety of price ranges, so pick one that suits your pocket without compromising on quality.

Reviews: Last but not least, read reviews! They give you a peek into the experiences of others and can be incredibly helpful in making your choice.
So there you go, beautiful readers! Keep these factors in mind, and you're all set to start your journey into the exciting world of app-enabled sex toys. Happy shopping! 🛍️
Top Five App-Enabled Sex Toys for Long-Distance Partners
Ladies and gents, it's time for the exciting part! If you're unsure where to start your shopping journey, don't fret. We've got your back! After thorough research and reviewing customer feedback, we've curated a list of our top five app-enabled sex toys that are perfect for long-distance lovebirds. So, without further ado, let's dive in!
Lovense Lush 3

What it is: An upgraded version of the popular wearable vibrator.
Pros: Highly adjustable settings, long-lasting battery, and a powerful motor.
Cons: Might be too intense for beginners.
Price: $$$

We-Vibe Sync

What it is: A couples' vibrator that can be worn during intercourse.
Pros: Adjustable fit, waterproof, and dual stimulation.
Cons: Might take some time to get used to.
Price:

\(\)

OhMiBod Esca 2

What it is: A versatile wearable massager.
Pros: Suitable for beginners, LED light for visual feedback, and customizable vibrations.
Cons: Not as powerful as some alternatives.
Price: $$

Kiiroo Onyx+

What it is: An interactive male masturbator.
Pros: Syncs with 2D and VR content, highly immersive experience.
Cons: Might be noisy.
Price:

\(\)

MysteryVibe Crescendo

What it is: A flexible smart vibrator that adapts to your body.
Pros: Super adaptable, waterproof, and multi-motor design.
Cons: The app can be a bit complicated.
Price:

\(\)
Remember, lovelies, it's not just about the toy, but about the connection you're building with your partner. Choose something that feels right for you both, and most importantly, have fun exploring! 💖
Tips on Using App-Enabled Sex Toys in a Long-Distance Relationship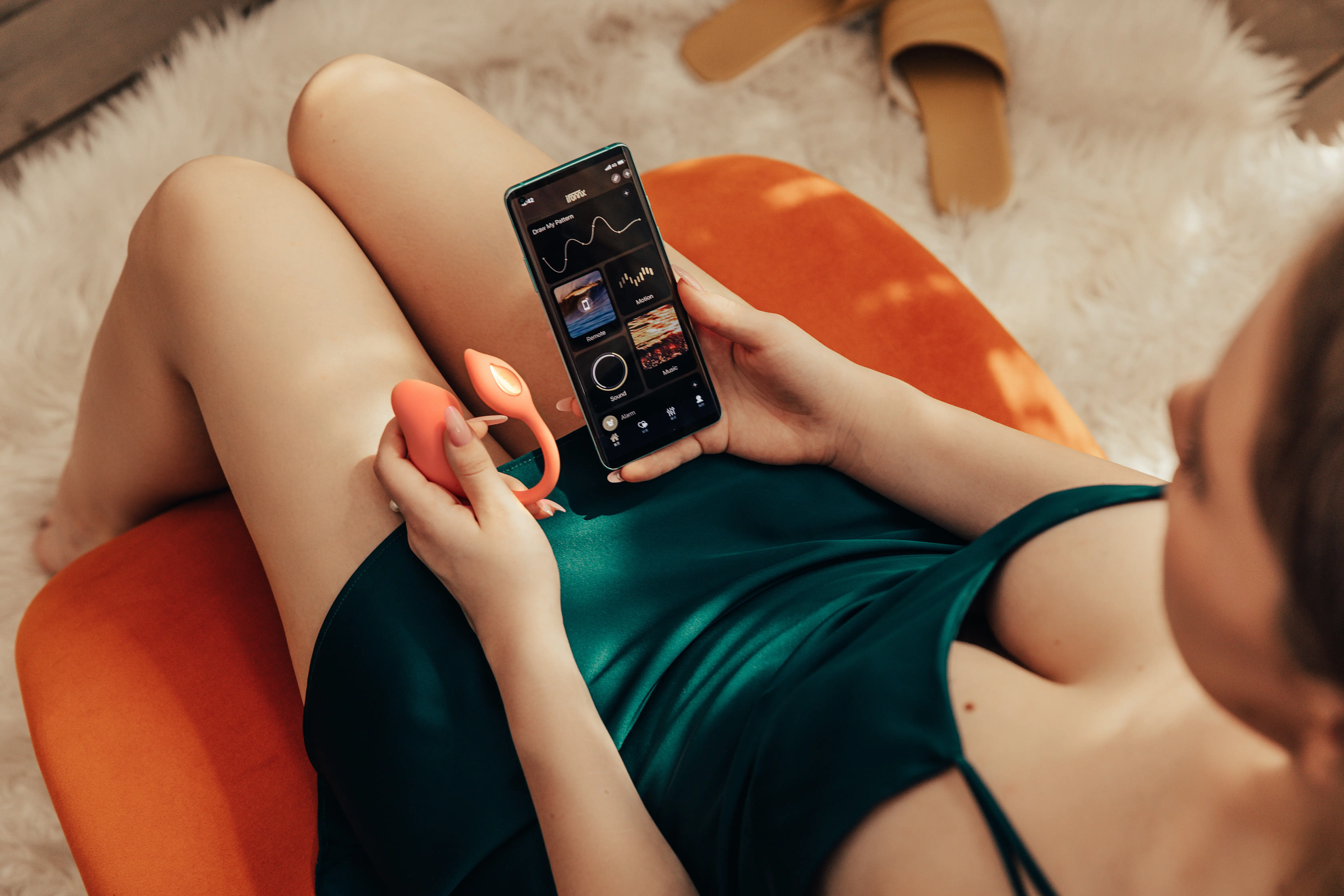 Okay, lovelies, now you've got your perfect toy (or maybe a few?) from our store, and you're ready to start exploring. But where do you begin? Here are some tips to help you get the most out of your app-enabled sex toy experience in a long-distance relationship:
Communication is Key: Just as with any aspect of a relationship, it's essential to communicate openly about your desires, boundaries, and comfort levels with your partner. Don't be shy, darlings!

Explore the App Together: Most of these toys can be controlled with the Vibrava app. Explore it together, try different settings, and find what you both enjoy.

Try Virtual Dates: Plan a special night. Dress up, order the same type of food, light some candles, and create a romantic atmosphere. Build up the anticipation, and then let the toys add a touch of intimacy.

Experiment: Don't be afraid to experiment with different toys, settings, and scenarios. The beauty of these devices is the freedom they offer for exploration.

Maintain Your Toys: Don't forget to take care of your toys. Regular cleaning and proper storage will keep them safe, hygienic, and ready for your next session.
Remember, my dear readers, the goal is not just pleasure but also deepening your emotional connection. It's about keeping the intimacy alive, exploring together, and having fun while you're at it!
Conclusion
And there you have it, my darlings! Your ultimate guide to app-enabled sex toys for long-distance partners. From understanding what they are, why you should consider them, to choosing the right one from our store, and using them in the most exciting ways, we've covered it all!
As you navigate through the waters of your long-distance relationship, remember that it's all about keeping the connection strong and the intimacy alive. It's about making the most of what technology has to offer us and using it to bring you and your partner closer.
Finally, remember that using these toys is not just about physical pleasure, but about fostering an intimate connection with your partner, even from miles away. It's about exploration, communication, and shared experiences.
So, my beautiful readers, it's time to break the barriers of distance, embrace the technology, and step into a whole new world of intimacy and connection. Happy exploring! 💖
---
Disclaimer: The information provided in this blog post is for educational purposes only and should not be considered as a substitute for professional advice. Every individual is unique, and what works for one person may not work for another. When using sex toys, it's important to prioritize your safety, follow manufacturer instructions, and communicate openly with your partner. Consult with a healthcare professional or a qualified expert for personalized guidance. By using the information in this blog post, you acknowledge and accept that you are responsible for your own choices and actions.